Uniform
The proper wearing of the Academy's uniform is very important. It provides our pupils with an identity, it helps promote a purposeful approach to learning and demonstrates a commitment to the values of the Academy.
Our strict and consistent approach is appreciated by both pupils and parents and they have worked hard with us to ensure that the uniform is of a high standard.
There is an expectation that all members of the Academy will strive to look their best. For pupils this will mean wearing the Academy uniform correctly when travelling to, from and within the Academy and when on trip and visits. Unnatural dyed or coloured hair is unacceptable. The decision as to what is appropriate is one for the Academy to decide.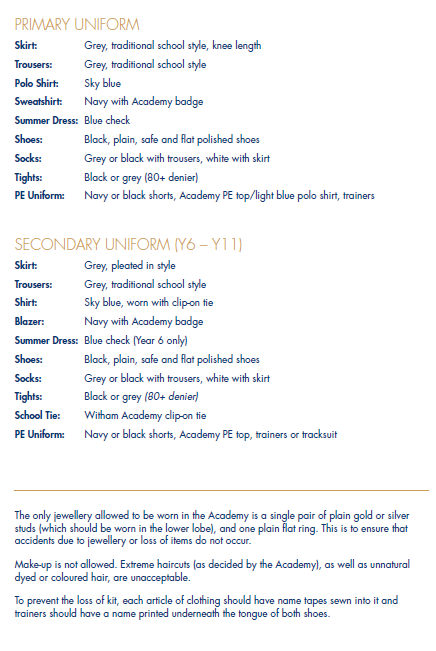 All items can be purchased from:
Primary- Uniform Direct ® - Priory Witham Academy Uniform (uniform-direct.com)
Secondary- The Priory Witham Academy (uniform-direct.com)
We offer a Swap shop where good quality second hand uniform items can be obtained. For more information please email Withamswapshop@prioryacademies.co.uk