Student Entitlement
Gatsby Benchmarks
The Academy's careers curriculum is grounded in the Gatsby Benchmarks, which are eight benchmarks which serve as a framework for improvement in careers provision. The eight Gatsby benchmarks of Good Career Guidance are:
A stable careers programme
Learning from career and labour market information
Addressing the needs of each pupil
Linking curriculum learning to careers
Encounters with employers and employees
Experiences of workplaces
Encounters with further and higher education
Personal guidance
For more information on the Gatsby Benchmarks, please follow this link: Gatsby Benchmarks
CDI Framework
In addition to meeting the Gatsby benchmarks, the Academy also utilises the CDI Framework, which clarifies the skills, knowledge and attitudes that our careers curriculum seeks to develop, in order for our learners to have positive careers. The CDI Framework outlines the learning outcomes that our career development programme is aiming to bring about. These learning aims are sustained and progressive throughout a student's time at the academy. These are mapped to six learning areas: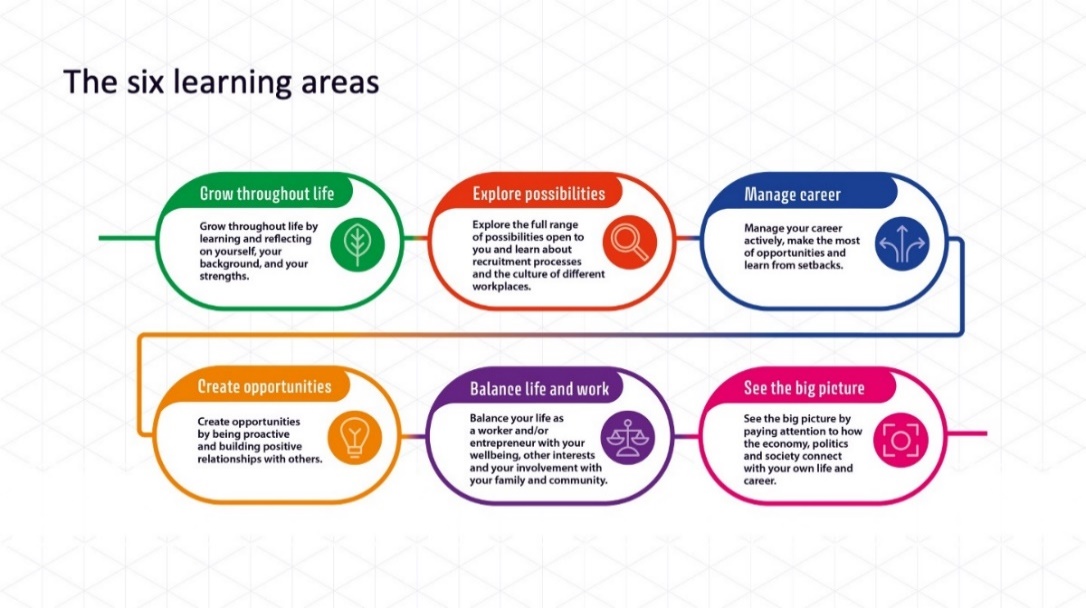 For more information on the CDI Framework, please follow this link: CDI
Careers Guidance
All students have access to a fully qualified careers advisor at the Academy. Every student will receive at least one appointment before they leave the academy in Year 11, though we expect that most students will have an appointment in Year 10, and the opportunity for a follow up in Year 11. All appointments will last between 45 minutes-1 hour. Any student who would like to book a careers guidance appointment should contact their Year Director, tutor, or a member of the careers team, who will arrange an appointment.
Careers Curriculum
The Priory Witham Academy has a careers progression framework, that challenges and encourages students to make informed decisions which ensures they are fully prepared to pursue their future educational and career aspirations.
Each year group has a theme that the students will focus on. Themes have been created with the Gatsby Benchmark in mind.
Year
Year Aim
Measurable Outcome
Provision

7

To develop yourself, your strengths and areas to develop

CDI: Grow throughout life

Students can identify their strengths and areas to develop (e.g. skills, personality traits etc.)
Students to have completed a careers software tool to identify potential career pathway, based on their strengths and weaknesses

Personal Development sessions
Unifrog careers software (personality assessment)
Enterprise 'Tyre Challenge' from MYPATH*
The Priory Witham Academy Careers Fair*

8

To be introduced to and develop an understanding of the world of work and how it is constantly changing

CDI: Explore possibilities

To have meaningful encounters with employers through the Careers Fair and 'Living in the Wider World' PD days
For staff to provide explicit curriculum links to labour market information (LMI)

Personal Development sessions
Construction Week visit to the Lincolnshire Show ground
'Guess My Job' employer engagement
Blue Skies Programme (Jon Egging Trust)
Unifrog careers software (personality assessment)
BBC 'Share Your Career Story' Tour
Provider Access Policy - UTC Assembly*
The Priory Witham Academy Careers Fair*

9

To develop research skills through the investigation of a range of career pathways (e.g. jobs, careers, Further and Higher Education etc.)

CDI: Manage career

CDI: Balance life and work

Students to have meaningful encounters with employers/further and higher education/apprenticeship providers through the Careers Fair
Students to be provided careers support in order to support Key Stage 4 options process
Students to have investigated at least one from a job, career, apprenticeship or Further/Higher Education provider
Students to understand how their investigation can impact on their future social mobility (lifestyle, financial status, work/life balance etc.)

Personal Development sessions
Unifrog careers software (personality assessment)
BBC 'Share Your Career Story' Tour
Blue Skies Programme (Jon Egging Trust)
Provider Access Policy - Priory Apprenticeship assembly
Provider Access Policy - Lincoln, Newark and Gainsborough College assembly*
The Priory Witham Academy Careers Fair*

10

To develop the qualities and skills which enable learners to improve their employability

CDI: Explore possibilities

CDI: Manage career

Students to have completed a CV form and cover letter based on latest employee thinking
Students to have undertaken an interview process with self-reflection
Students to engage in work experience opportunities to support future application process
Students to have meaningful encounters with employers/further and higher education/apprenticeship providers through the Careers Fair

Personal Development sessions
liNCHigher (decision-making and opportunities post 16 and 18) sessions
Unifrog careers software (skills and environment assessments)
BBC 'Share Your Career Story' Tour
Provider Access Policy - Creative Access College
Provider Access Policy - Riseholme College*
1 to 1 Careers Guidance Appointment
Experience of a Workplace programme*
The Priory Witham Academy Careers Fair*

11

To develop students abilities to identify choices and opportunities and then actively plan and make informed decisions

CDI: Career opportunities

CDI: Explore possibilities

CDI: See the big picture

Students to have meaningful encounters with employers/further and higher education/apprenticeship providers through the Careers Fair
Students to be provided with careers guidance in order to support post 16 opportunities
Students to complete a career development plan to support them in reaching an informed decision regarding post-16 opportunities

Personal Development sessions
Leicester Autumn University Search Fair
liNCHigher (interviewing well and labour market information) sessions
BBC 'Share Your Career Story' Tour
Provider Access Policy - Lincoln, Newark and Gainsborough College assembly
Provider Access Policy - Keyworth visit
1 to 1 Careers Guidance Appointment
The Priory Witham Academy Careers Fair*

12/13

To consider Post-18 destinations such as jobs, careers, apprenticeships and Further and Higher Education and to begin the application process

CDI: Career opportunities

CDI: Explore possibilities

CDI: See the big picture

Students to have meaningful encounters with employers/further and higher education/apprenticeship providers through the Careers Fair
Students to be provided with careers guidance in order to support post 18 opportunities
Students to engage in work experience opportunities to support future application process
Students to partake in 'World of Work' days through local employers
Students to attend university visits which broaden aspirations with regard to higher education

Personal Development sessions
JET (Affinity) Employability Programme
BGU 'Next Steps 4 Study' programme
Leicester Spring University Search Fair
Unifrog careers software
HSBC (branding yourself and budgeting for university) session
Provider Access Policy - De Montford University visit*
UCAS guidance and support
1 to 1 Careers Guidance Appointment
The Priory Witham Academy Careers Fair*
Experience of a Workplace programme*
*Provision to continue into the academic year 2023-2024