Attendance
We aim for 95% attendance across the academy, we currently are 90.7% (Week 9)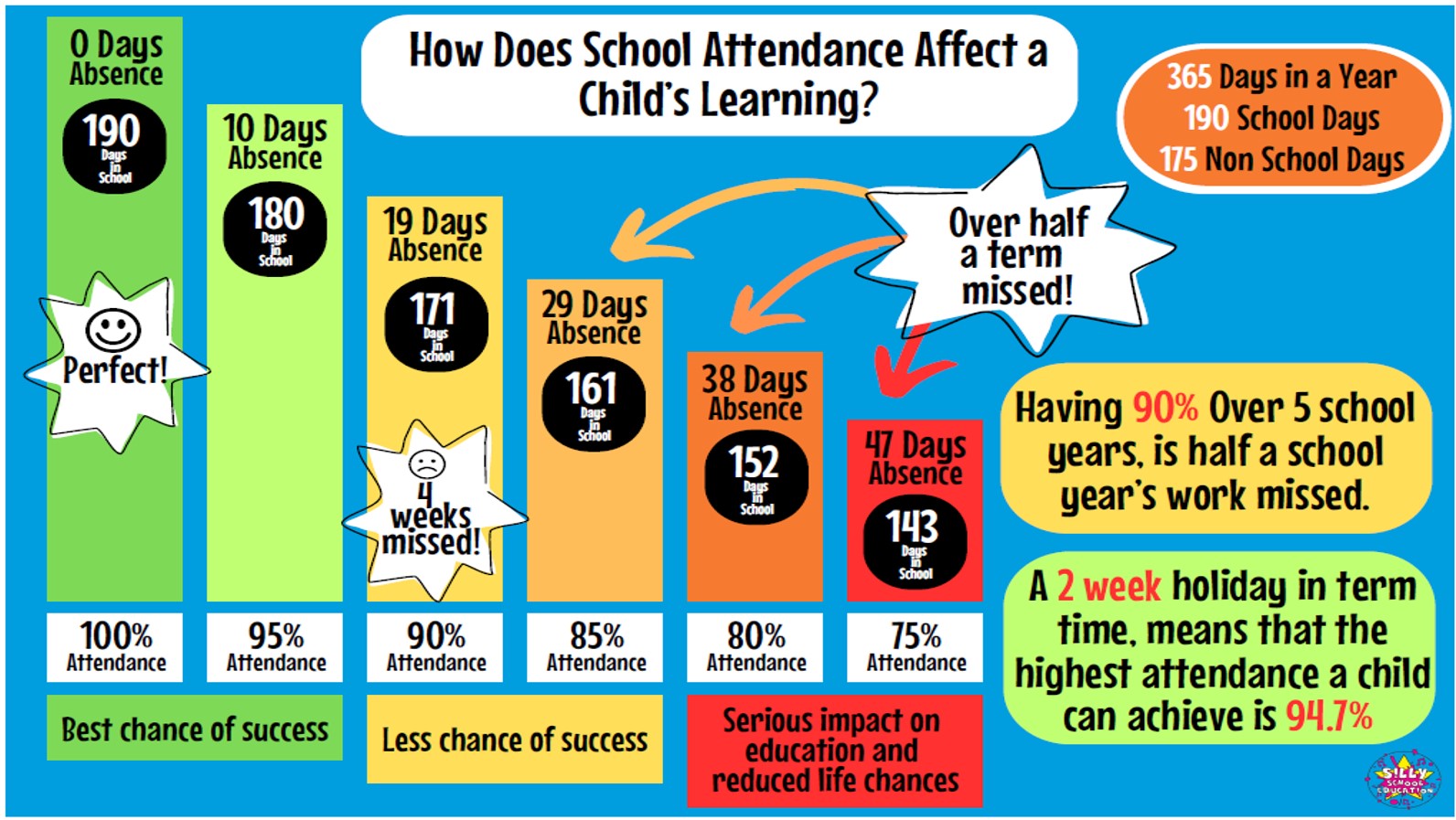 Celebrating Attendance at Witham
Primary
Secondary

Weekly class attendance trophy
Celebratory cake
Termly attendance certificates
Annual attendance certificates

Students with attendance above 96% get 2 house points each week
The form with the highest attendance, receives a trophy and sweets, each week in assembly
Each module, students with attendance above 96% receive reward passes.
Module reward trips.
Illness and Appointments
We urge parents to ensure that if their children need to be absent for appointments, they are only out of school for the duration of the appointment, returning either afterwards or beforehand. Additionally, parents and carers will be requested to provide appointment letters or texts to authorize such absences.
If there is uncertainty regarding whether a child should attend school due to illness, we encourage parents to contact us and speak to a staff member. We are committed to the well-being of our students and will always send home those who we believe are too unwell to attend school.
If you are in any doubt, please use the website below for advice.
Is my child too ill for school? - NHS (www.nhs.uk)
Leave of Absence (Holiday) Requests
We kindly ask for continued support in refraining from taking term-time holidays, as this significantly affects your child's education. Holidays during term time, in line with our Attendance Policy and the DfE guidance, the Headteacher will only grant a leave request in exceptional circumstances (to be determined by the academy). Parents/Carers who believe they have exceptional circumstances must make a request for a leave of absence to the Headteacher no less than one month prior to the holiday (a form can be obtained from the academy reception or using the link below). If the circumstances are not considered to be exceptional, and permission to take a term-time holiday is not granted by the Headteacher, but the holiday is still taken, the absence will be recorded as unauthorised and a Fixed Penalty Notice may be issued by the Local Authority.
Understanding Types of Absence
The Academy is required by law to record each half-day of absence as either AUTHORISED or UNAUTHORISED. Therefore, the cause of absence is always required, preferably in writing. Reasons such as illness or unavoidable medical appointments are considered reasonable to warrant an AUTHORISED absence from the Academy, which falls unavoidably in school time.
UNAUTHORISED absences are those which the Academy does not consider reasonable and no "leave" has been granted. This includes:
Parents/Carers keeping children off school unnecessarily
Truancy from school
Absences which are not properly explained
Pupils who arrive late at the Academy after the AM register has closed
Shopping, birthdays or looking after other children
Day trips and holidays in term time which have not been agreed
The Academy actively seeks to support parents/carers where a child's 'illness' is becoming a mask for reluctance to attend school. If your child is becoming reluctant to attend, the Academy would encourage you to contact the relevant Year Pastoral Manager or Phase Leader for support and to discuss your concerns to find a way forward rather than give in to pressure to excuse them from attending. This only serves to give the impression that attendance is not important and makes matters worse and does not support economic well-being.
Persistent Absenteeism
Students who are absent for 10% or more across the academic year, regardless of the reason, are categorised as a 'persistent absentee'. The Academy monitors and tracks absenteeism meticulously. However, any student identified as having been absent for 10% of the school time or is at risk of moving towards that figure will be treated as a priority and parents/carers will be notified of this immediately and the Attendance Officer informed.
Identified PA students and parents are given an individual action plan to support and assist in meeting their needs in improving their attendance. The action plan will be decided at an attendance panel meeting with parent and students involved.
Absence Procedures: If your child is absent you must:
Contact the Academy on the first day of absence
Contact the Academy on each subsequent day of absence
If you have failed to inform the academy of a reason for the absence, you must send in a written note detailing the reason for absence on your child's first day of return to the academy.
If your child is absent the Academy will:
Telephone parents/carers if we have not heard from you
Continue to request a reason via telephone calls or house visits.
Invite you to discuss the situation with the Pastoral Manager/Phase Leader and/or Assistant Headteacher if the absence persists.