Staff Wellbeing
The Trust is committed to leading a mentally healthy organisation, which includes a commitment to and promotion of emotional wellbeing and mental health. Therefore, all Trust policies and procedures ensure this commitment is incorporated in order to support all staff and students. Members of staff are encouraged to speak to their line managers, and students are encouraged to speak to any member of staff, if they feel any part of this policy would affect their emotional wellbeing and mental health. Any such comments should be passed to the Trust's HR department (via FederationHR@prioryacademies.co.uk) for appropriate consideration at the next available point in the policy review cycle.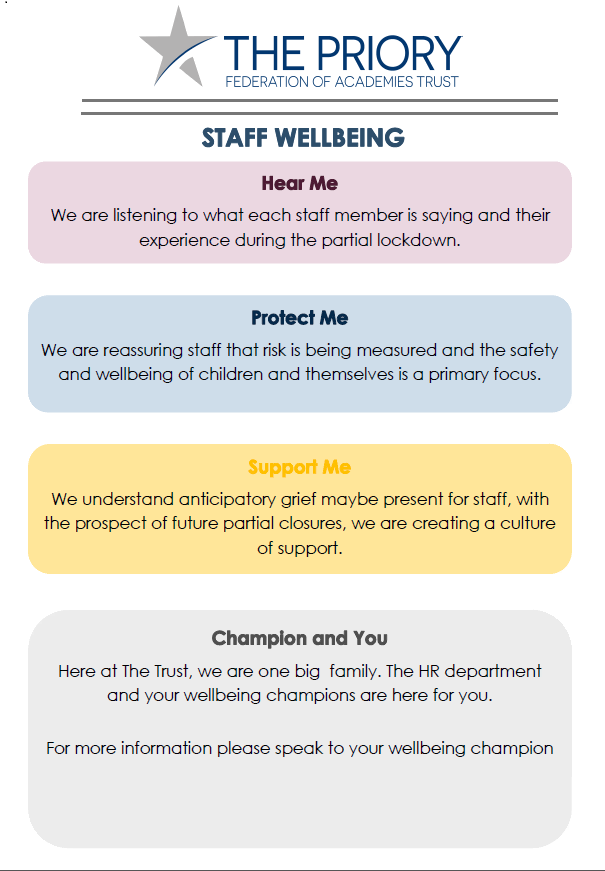 Place2Be is a brilliant website for staff to undertake mental health training and counselling, in order to support themselves and the children you work with.
Supporting staff wellbeing in Primary Schools page offering resources particularly useful for teachers, support staff and others working in primary schools, all recommended by the people behind Mentally Healthy Schools. Mentally Healthy schools offers support and resources which are helpful and useful to parent/carers, staff and students within schools. This website has sections covering all areas of wellbeing and how to start conversations with students and parents regarding mental health and how to support this in schools.
With the ongoing pressures of being teachers and support staff, this website is highly recommended. Mental Health At Work has a range of resources and links to support your mental health and offering advice to keep your wellbeing positive.
This charity offers advice and counselling to help you look after yourself. More information can be found on keeping a good work-life balance and dealing with stress, anxiety and depression. They also offer a free 24/7 helpline for staff: 08000 562 561.